The North Shore Wargames Club (Inc.)
Auckland, New Zealand
Welcome to the North Shore Wargames Club. The NSWC is located on the sunny North Shore in Auckland, New Zealand. We play wargames with military miniatures and game in most periods. All game systems, scales, and periods are welcome, although most of our gaming is Ancients (DBMM and Field of Glory), Renaissance (DBR), Napoleonics (Field of Glory), WWII (Flames of War), and Fantasy (Kings of War).

The NSWC meets on the 2nd, 4th and 5th Sunday of each month at the Forrest Hill Scout Hall in Becroft Park on Becroft Drive, Forrest Hill.
Meetings run from 10:30 to 5pm.
Next meetings:
June 25
July 9, 23, 30
August 13, 27
September 10, 24
October 8, 22, 29
November 12, 26
December 10, 24, 31

Contact us info@nswc.org.nz

Join our Yahoo Group

Napoleon in 1813.

Fantasy
Ancients
Renaissance
Napoleonic
Colonial
WW II
Moderns

News
Club Competitions
Trophy Cabinet
Club History
Links
Map
Club Secrets
Latest News
Club meeting 11 June
FoG-Napoleonics. Mike played Andrew twice, firstly Spanish v French and then Spanish v Russians.
Brett (French 1814) played Philip (French 1800)
Flames of War. Steve (Germans) played Kit (US)
Steve (Germans) played Rob (Poles)
Kings of War. Alan (Forces of Nature) played Kendall (Undead)
Alan (Forces of Nature) played Gordon (Dwarfs)
Club meeting 28 May
FoG-Napoleonics. Kit (British) played Philip (French)
Mike (Turks) played Alan (Westphalians)
Kendall (Wurttembergers) played Andrew (Russians)
Flames of War. Ben (Germans) played Steve (Soviets)
Kings of War. Chris (Ratkin) played Rob (Dwarfs)
Alan (Forces of Nature) played Rob (Dwarfs)
Club meeting 14 May
Rob and Kendall played a Bolt Action game, both using British Paras. They then had a Kings of War game, this time both using Dwarfs.
FoG-Napoleonics - We had a couple of FOGN games, getting in some practice for NICon coming up next month and also playtesting version 2 of the rules. Andrew (Prussians) played Stu (Saxons), and Philip (French Army of the Orient) played Mike (Turks)
Club meeting 30 April
Kings of War - Rob (League of Rhordia) played a couple of games, first against Alan (Undead) and then Chris (Ratkin).
Flames of War - Ben (German) had a couple of games against Kit (U.S.)
FoG-Napoleonics - Andrew (Mixed Nationality Corps) played Brett (Austrians)
Philip (French Army of the Orient) played Stuart (Saxons)
Club meeting 23 April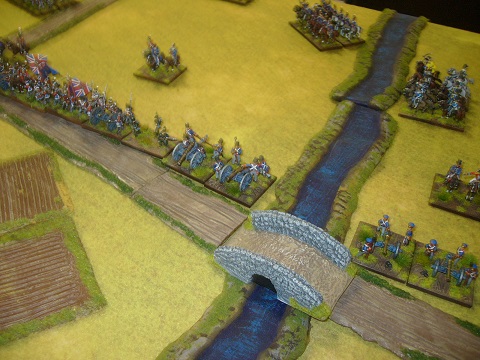 We had several games at the club today. This picture is of one of the Napoleonic games - Kit's 1815 British playing Philip's French.

NatCon 2017 14-17 April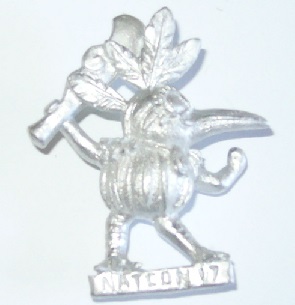 The Nationals were held at the Woolston Workingmens Club in Christchurch over Easter weekend. The event was well attended, although there was a very low turnout from Auckland clubs and Rob and Philip were the only NSWC members there. Rob won 1st place in Kings of War with his Dwarf army.
Amongst the loot bag was this souvenir figure of the Natcon Kiwi!

Club meeting 9 April
A busy day at the club today - 5 games of Flames of War, 4 of Kings of War, and 1 of FoG Napoleonics.
Club meeting 26 March
More club news.
---
This page last updated 23 June 2017
Top