The North Shore Wargames Club (Inc.)
Auckland, New Zealand
Welcome to the North Shore Wargames Club. The NSWC is located on the sunny North Shore in Auckland, New Zealand. We play wargames with military miniatures and game in most periods. All game systems, scales, and periods are welcome, although most of our gaming is Ancients (DBMM and Field of Glory), Renaissance (DBR), Napoleonics (Field of Glory), WWII (Flames of War), and Fantasy (Kings of War).

The NSWC meets on the 2nd, 4th and 5th Sunday of each month at the Forrest Hill Scout Hall in Becroft Park on Becroft Drive, Forrest Hill.
Meetings run from 10:30 to 5pm.
Next meetings:
April 9, 23, 30
May 14, 28
June 11, 25
July 9, 23, 30
August 13, 27
September 10, 24
October 8, 22, 29
November 12, 26
December 10, 24, 31

Contact us info@nswc.org.nz

Join our Yahoo Group

Napoleon in 1813.

Fantasy
Ancients
Renaissance
Napoleonic
Colonial
WW II
Moderns

News
Club Competitions
Trophy Cabinet
Club History
Links
Map
Club Secrets
Latest News
Club meeting 26 March
Club meeting 12 March
FOG-N. Mike (French) played Andrew (Russian guards)
Kit (British) played Philip (French Army of the Orient)
Kings of War. Rob (Herd) played Alan (Undead)
Rob (Herd) played Chris (Ratkin)
Philip (Herd) played Alan (Undead)
Flames of War. Mike (Russians) played Greg (Germans) in a practice game for Equinox next week.
Club meeting 26 February
It was good to see some new faces at the club. Welcome to the new guys! There was a good range of games being played today as well.
Flames of War
Steve's Soviets took on Ben with a daunting array of King Tigers.
Napoleonics
Mike (French 1814) played Philip (French Army of the Orient 1801)
Kendall (Wurtemburg) played Kit (British 1815)
Brett (Austrians) played Andrew (British)
Kings of War
Chris (Ratkin) played Rob (Dwarfs)
Alan (Goblins) played Chris (Ratkin)
Rob (Dwarfs) played Philip (Empire of Dust)
Club meeting 12 February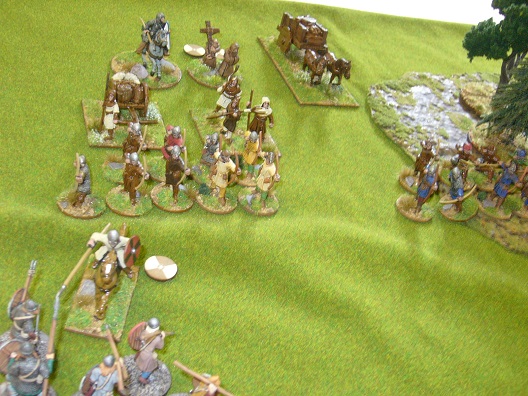 Saga - Normans and Vikings.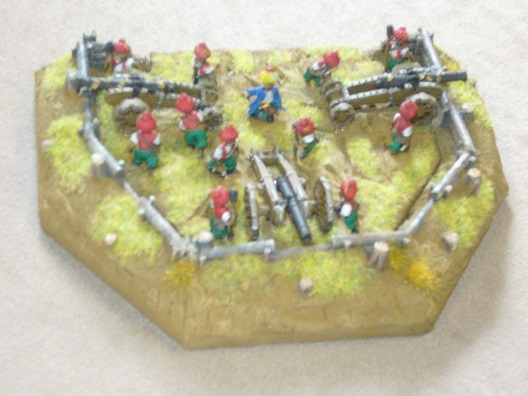 The Turkish fortifications.

Saga - Rob and Alan had a game with Vikings attacking a Norman baggage train.
FOG-N - We had three more practice games using the Version 2 rules: Andrew (Russians in the Balkans) using Prepared Attack played Philip (French Army of the Orient) in Flexible Defence. Kit (1815 British) played Mike (Turks), both using Position Defence and the Turks with field fortifications. Kendall (Wurtemburg) played Brett (Austrians).
Flames of War - Tumatauenga (Germans) played Rob (British)
More club news.
---
This page last updated 26 March 2017
Top