NORTH SHORE WARGAMES CLUB
News Archive 2005
Home | Links | Back to News | Club Competitions | Trophy Cabinet | Contact us info@nswc.org.nz
---
Club meeting 11 December 2005
WHFB - Another game in the club competition: Aaron's Wood Elves took on Grant's Vampires.
DBMM 25mm - Rob played his first ancients game for several years borrowing Andrew's Han Chinese army, and beat Andrew who was using Early Crusaders.
Shattered Lances 25mm - Brendan and Grant had a game using 14th Century Spanish and English armies. A win to Grant using the English.
DBR 15mm - Ian has returned to the club from his world travels! Today he had a DBR game with Stu. Stu's 30YW French defeated Ian's German Catholic army.

There have been no more qualifying games in the Ancients Competition. The top four qualifiers go on to play in the semi-finals:
Philip v Jono
Lee v Brett

In the Warhammer Competition the first round has been completed. The next round is:
1) Rob vs Matt
2) Aaron (snr) vs Dan
3) Jono vs Grant
4) Aaron (jnr) vs Russell

Well that's it for this year at the club. We take a break now and meetings resume on Sunday 8 January next year. Best wishes to everyone for the holidays!
Club meeting 27 November 2005
WHFB - First games of the club competition: Aaron the Senior's Empire had a winning draw against Brett's Orcs and Goblins, and Rob the Senior beat Russell.
In a non-competition game, Dan beat Aaron the Junior.
DBMM 25mm - One more competition game, Philip (Kushite) beat Kendall (Hussite). In another non-competition battle of the plastic armies, Lee's Macedonians beat Andrew's Early Crusaders.
Crossfire - Kit and Pete had a 15mm WWII game using the Crossfire rules.
Club meeting 13 November 2005
Flames of War - Kendall's US Armor smote Garth's Fallschirmjaeger 5-2 in a Late War free for all.
WHFB - Rob the elder beat Rob the younger (both used Empire)
WHFB - Dan (Vampire Counts) beat Russell (Chaos Mortals)
Damn Battleships Again - Stuart and Brett had a game of Damn Battleships Again. Stuart's American battleships slaughtered the Spanish cruisers fleet in an action off Cuba. Two surviving damaged Spanish cruisers escaped the debacle, while the lone Spanish battleship held the Yankees off.
Flames of War Tournament 5-6 November 2005
Congratulations to Kit for winning First Place in the 1st Official Grand New Zealand Tournament for Flames of War which was held this weekend. The NSWC was represented by Rob (Germans), Brett (Russians), and Kit (Gurkha Rifles). The competition had five different mid-war scenarios (Meeting Engagement/Death from Above; Hold the Line/Big Push; Breakthrough; Fighting Withdrawal; and Free for All) and a painting competition. The tourney was in a very nice venue, the Mount Eden War Memorial Hall. All the tables had sculpted terrain, featuring a lot of No Man's Land buildings and accessories.
Club meeting 30 October 2005
Just a couple of games at the club today.
WHFB - There was a 7000 point battle. On one side was Rob and Dan with Vampire Counts, and on the other side Russell and Aaron with Brettonians.
DBMM 25mm - An ancient competition game between Philip (Kushite Egyptian) and Lee (Alexandrian Macedonian). An 8-2 win to the Egyptians under the old DBM scoring system, or 14-11 under the DBMM system. The Egyptian chariots and cavalry got the best of the fight against the hoplites and phalangites but struggled against the Companion cavalry. The numerous Egyptian archers contributed little to the battle in the strong winds, nor did the brand new Macedonian catapaults.
Club meeting 23 October 2005
Another meeting with a heap of Warhammer games, with everyone practicing for the forthcoming club Warhammer competition.
Flames of War - Brett's Russian infantry successfully held the line against Kit's German grenadiers.
WHFB - Rob and Aaron the Elder had a great 7000-point battle, with both sides being Orcs and Goblins.
Russell's Tomb Kings (with something like fifteen to twenty chariots) beat Robert's Empire.
Matt's Orcs and Goblins beat Dan's Vampire Counts.
Dan's Vampire Counts then took on Robert's Empire army.
Matt's Orcs and Goblins fought Russell's Tomb Kings.
Aaron the Younger used Brettonians to massacre Neil's Lizardmen.
Club meeting 9 October 2005
Quite a busy day at the club today - lots of Warhammer games, and some discussion of getting the Warhammer competition underway.
WHFB - Four games were played.
Principles of War 15mm - Philip's 1859 Austrians took on Kendall's Prussians.
Andrew and Matthew had another 15mm 19th Century game, Danes vs Austrians.
Flames of War - Brett (Russian infantry) played Garth (Fallschirmjager)
Club meeting 25 September 2005
Today the club was dominated by lots of Flames of War games, so there were lots of flaming tanks and cries of "stupid game..."
Shattered Lances - Philip (Normans in Sicily) v Brendan (Fatimids). The Normans took a defensive position in a valley. The opening moves of the Fatimids were rather lethargic, and the Norman right flank counter-attack drove them back. Regaining the initiative, the Fatimids pressured the centre and almost succeeded on the other flank before a final charge by Count Roger defeated them.
DBR 15mm - In a battle somewhere in Persia, John's Turkomens narrowly defeated Grant's Persians.
Flames of War Mid-war - Kendall successfully withdrew a US Para force from Brett's Russian infantry attack (won 6-1).
Late war - Garth (Fallschirmjager) beat Kendall (US Paras)
Rob (British) vs Brett (Russian)
Rob won 6-1 vs Garth in the cauldron.
Napoleonz YahooGroup formed 11 September 2005
At NapCon, which was held in Upper Hutt recently, some of the players came up with the idea of forming a YahooGroup specifically for Napoleonic gamers in New Zealand. Thus Napoleonz was born - a YahooGroup for all Kiwis interested in playing the Napoleonic period, no matter what scale, what rules, or what type of game they like. Napoleonz is not a club as such, but rather a discussion group that crosses club boundaries to link players from throughout the country who enjoy gaming this colourful period. Already, after one week of operation, we have more than 30 members, and the discussion is brisk and lively. The group has also set up a database to record the most commonly played rules around the country.
http://games.groups.yahoo.com/group/napoleonz/
Vive l'Empereur!
Club meeting 11 September 2005
A quiet one today
Flames of War - Rob (German) beat Brett (Russian Guard).
DBMM 15mm - Kendall (Navarrese) and Andrew (Papal Italian) played two games. The honours were shared.
Shattered Lances - Brendan and Grant played another game of SL. Brendan used an early Seljuq army (with Kakuyid ally), and Grant had Romanian Franks (with Trapezuntine ally). Honours were shared - both armies became disspirited in the same turn.
Push of Pike 3-4 September 2005
We had our second annual DBR tournament this weekend. Danny retains the PoP Gun for another year having successfully defended his title with four straight wins. Jono won the prize for the best presented army, and he also got the Head Hunter's Award for destroying the most enemy generals.
We had 12 competitors (originally 14 entries, but two had to pull out at the last minute). A last minute glitch with the venue saw us move over to the AWC hall on Saturday, returning to the NSWC on Sunday. Thank You to the AWC for letting us use their hall (so conveniently located near the Kashmir restaurant!)
This year's tournament was based on the theme of armies of the English Civil Wars and the Thirty Years War. We agreed to run another Push of Pike next September, with the theme of Early European Armies (pre-1540).
Pictures and etailed results of all the games are on the PoP page.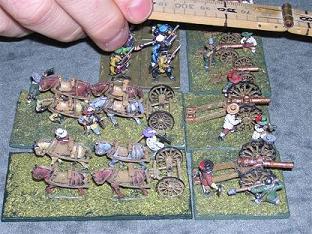 Above: One of Andrew's Artillery Batteries
Below: Cornish pike block in Richard's Army of the King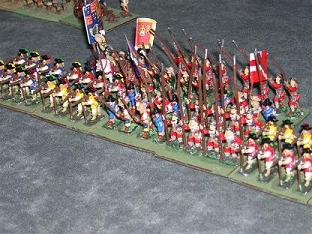 Club meeting 28 August 2005
Warhammer Fantasy Battle - The campaign concluded with a victory to Rob's forces of darkness.
Shattered Lances 15mm - Brendan and John had a game with the new SL rules. John's Crusaders were attempting to defend a ridge line.
DBMM 15mm - Brett (Alexandrian Imperial) beat Lee (Han Chinese). The Chinese had an all-cavalry army and they defeated the Macedonian cavalry. The Macedonian infantry and elephants still managed to do enough damage to defeat the Chinese army. It was a 9-1 win to Brett in the competition.
DBR 15mm - Philip (Bishops' Wars English) and Andrew (Royalist) had a training game for Push of Pike, both using armies commanded by King Charles. The Royalists had a large contingent of Cornish pikemen in the centre and a strong cavalry wing. The cavaliers made a dashing but futile attack on the opposing infantry, and were soon defeated. The rest of the Royalist infantry pushed forward with some success, but were at a disadvantage after the loss of the Cornish infantry general, and were eventually beaten.
Flames of War - Kit and Kendall had a desert battle, using two of Kit's armies; Sikhs and Italians. The Italian colonial infantry force was defending entrenchments and won a decisive victory.
Club meeting 14 August 2005
Warhammer Fantasy Battle - Lots more battles and lots more carnage in the campaign games with by Aaron, Dan, Matt and Rob.
DBMM 15mm - Philip (Mithridatic) beat Brett (Gallic) in a competition game. The invading Pontic army sent the scythed chariots in to lead the charge against the Gallic infantry, successfully followed up by a battle line of peltasts. On one flank Mithridates' Thracians cleared some Gauls out of the scrubby ground, and on the other flank his Armenian allies ran down the Gallic C-in-C. Meanwhile a large number of Gallic chariots and warbands were on a flank march. Où est Grouchy? A 9-1 win in competition terms or 20-5 in the new DBMM points system.
DBR 15mm - John's Royalists beat Kendall's German Catholics.
DBR 15mm - Kendall reformed his army and fielded German Protestants, but was beaten by Jono's Parliamentarians.
Club meeting 31 July 2005
We had a pretty full hall with lots of tables set up. Roland and Errol visited our club today, coming all the way from Whangarei. It was a good opportunity to present Roland with the ValleyCon medal for Best Painted Army that was won by the Indian army he had painted.

Warhammer Fantasy Battle - There was a series of small battles played by Aaron, Dan, Matt and Rob, as part of a campaign. Most amusing was one battle where the entire table was a swamp.
DBM 15mm - Al the Spartan and Errol the Viking had an ancients battle with a winning draw to the Spartans. The Viking C-in-C's command was broken, but the corresponding Spartan command was only 1.5 elements away from breaking itself. A large vineyard and orchard in the middle of the battlefield was contested by large numbers of Viking blades and Thracians who didn't live up to their Superior grading.
DBM 25mm - Andrew's Han Chinese defeated Kendall's Hussites in a good old fashioned DBM3.0 game. The paper Hussite army has now been upgraded to cardboard bases, and there was even a glimpse of some loose figures nearby, perhaps even waiting to be painted.
DBMM 25mm - Lee (Macedonians) beat Philip (Kushite Egyptians). The Macedonians began the battle under the leadership of Philip of Macedon, but, after an unfortunate encounter with an Egyptian chariot, ended the battle as Alexandrian Macedonians.
Volley and Bayonet 15mm - Roland and Grant replayed the 1815 Battle of Quatre Bras. The game wasn't exactly as the hisorical battle, but quite close. A smaller table size meant reinforcements poured into the battlefield more rapidly, pressing the defenders hard.
Flames of War - Kit (German) played Brett (Russian) in a scenario designed by Andrew, also on a table full of scenery designed and constructed by Andrew. The game used the street fighting rules from the Stalingrad book.
Shattered Lances published 30 July 2005
Shattered Lances: Wargaming in the age of the Crusades 600 - 1400 AD
The Shattered Lances rulebook has just been published. The rules cover the Crusades, as well as earlier conflicts in Central Asia, the Middle East and Europe. Specifically, they range from the early Arab conquests to the rise of the Ottomans and the Crusade of Nicopolis. The rulebook includes army lists for the First Crusade.

SL is available from Outpost Wargaming Services listed on the Books section on their website.

You might also like to join the Shattered Lances discussion list.
Club meeting 24 July 2005
Today's games at the club -
Warhammer Fantasy Battle - Dan and Matt had a game, using each other's army - Empire and Undead. Both sides took heavy losses and the game was drawn.
DBR 15mm - There was a campaign game between Philip's Spanish and the Tripolitanians played by John. A win to the defending Tripolitanians, who held out only 1 element from defeat. The Corsair galley fleet rowed up the coast, saw the rest of their command become demoralised, and then rowed back down. Meanwhile the Spanish commander entrusted his flank guard to some Italian cavalry, who were overwhelmed by the Moorish cavalry and camel riders. Exit the unfortunate Spanish commander, soon followed by the rest of his army.
DBR 15mm - John had a second renaissance game, this time a training run for Push of Pike. John used a Bohemian Protestant Revolt army (with some extra defences provided by the Italeri 'Battlefield Accessories' pack) but was defeated by Jono's Parliamentarians (with a splendid balsa-wood battleship.)
Flames of War - Rob was beaten by Andrew - a visitor from the City Guard club. It was a 4-3 win to the Germans, who were aided by RAF's poor target identification.
Flames of War - Kit (German infantry) beat Brett (Russian infantry who couldn't hold the line)

Just a reminder, we have another meeting next Sunday, another of our '5th Sunday in the Month' meetings.
Club meeting 10 July 2005
Today's games at the club -
Warhammer Fantasy Battle - Rob with Grimgor 'Ardboyz played Dan and his Vampire Counts. The 'Ardboyz smashed the Vampires in the first game, then in a rematch got a drawn game.
DBMM 15mm - In an Ancients Competition game Jono moved to second place on the table, beating Brett down to third, with a 9-1 victory. Jono was using Ptolomaic and Brett had Later Muslim Indians.
DBR 15mm - Kendall's new German Catholic Imperialist army (Grant's old army under new management) beat Philip's Parliamentarians. The Germans were able to repel the English attacks on both flanks, and also dominated the infantry firefight in the centre. We used 500 AP armies.

And in the less competitive phase of the club meeting, Andrew and Kit got out that fine game from Milton Bradley, Skirmish: A Revolutionary War Game c.1975. A win to the British!

Another one of Cheapass Games, Unexploded Cows, also made an appearance to entertain us in the evening.
Club meeting 26 June 2005
These are the games we played at the club today:
Warhammer Fantasy Battle - Rob (Grimgor 'Ardboyz) + Matt (Ogre Kingdoms) beat Dan (Vampire Counts) + Aaron the elder (Empire). This was a training run for the Orkland Cup teams battle. Following the team game, there were a couple more individual games.
Aaron the younger (High Elves Barmy Army) beat Matt (Ogre Kingdoms).
Rob (Grimgor 'Ardboyz) beat Dan (Vampire Counts).
DBMM 25mm - In a club competition game Lee's Alexandrian Imperial Macedonians beat Andrew's Chin Chinese 9-1. The Macedonian army was built from the Hat plastic figures and looked very nice.
DBMM 15mm - Another club competition game - Brett's Gauls attacked the Spartan army which was defending a hill. Lots of Gauls died to make a break through the Spartan line, but not enough to get a decisive result: a 5-5 draw.
AWI 25mm - Grant and John (British and Americans respectively) played an American Revolution game, using the DBR rules with some adaptations. Both armies and the terrain were very well painted.

Finally to finish off the day, we got out the board game Mare Nostrum for a bit of casual empire building.
Club meeting 12 June 2005
Although a cold and grey day in Auckland, the club was aglow from the array of shiny medals we won last week, not to mention the dazzling smiles of the winners. There was as usual an interesting selection of games being played.

Warhammer Fantasy Battle - Another three-sided battle with Aaron (Dogs of War), Matt (Ogre Kingdoms), and Dan (Dark Elves) who appeared to have the upper hand at the end of the game.
DBMM 25mm - Kendall's Hussites shot up Brett's Medieval Germans, who had neglected to bring any artillery with which to shoot back. Kendall should by rights be frowned upon in a severe manner for using paper bases instead of models. But he did tell us he had an army that looked good on paper. A 16-9 win to the Hussites using the latest DBMM scoring system.
DBR 15mm - Grant and John played a game based on the battle of 4th Kawanakajima, using a revised Japanese army list and the revised AP values (list and points available from the Condottiere group).
We started off glowering at each other across the river. We fought for a good five hours, at the end of which we had both lost two of our three commands, two of which were completely wiped out. Of the six generals engaged four were dead, Kenshin and bodyguard falling in hand to hand combat with Shingen. At the end of the battle, the two big commands were back to glowering at each other across the river.
Just like the real battle, except that in the real battle both sides lost in excess of 60% of their forces. Try simulating that with DBR!
DBR 15mm - Philip's Bishops' Wars English won a 9-1 victory over Kendall's Japanese.
DBR 15mm - In a second game, the Bishops' Wars English were defeated 9-1 by Jono's Parliamentarians. Things were going well for the Royal army, until King Charles and his cuirassiers were surrounded and destroyed.
WWI 15mm - Kieran and Simon played a Great War Spearhead game, 1914 French vs Germans. Both sides went for a straightforward assault, resulting in terrible casualties for both sides.
Moderns 1/300 - Bruce's US Marines got a winning draw over Rob's French, although the French were well placed to continue had the game gone on longer.
NICon 2005 4-5 June
The City Guard club hosted a very successful NICon convention here in Auckland this weekend at the Freemans Bay Community Centre.

The competitions and results for our club members:

WHFB (28 competitors)
Nic, Nurgle Beasts of Chaos, Best Painted Army
Nic, Nurgle Beasts of Chaos, 2nd

DBM 25mm (14 competitors) For the first time since DBM was offered at the convention, there was no 15mm competition this year because of lack of entries, but there was a very good turnout for the 25mm competition.
Andrew, Best Sport
Brett, Medieval German, Best Painted Army
Brett, Medieval German, 2nd

DBR 15mm (8 competitors)

This was the National Championship. John, the defending champion, successfully retained the title with a one point margin over Grant who took second place. Grant was also awarded the prize for being the Best Sport, and he traded a new set of dice to turn his luck around.

Grant, Best Sport
Philip, Muslim Indian, Best Painted Army
John, Later Danish, 1st
Grant, Safavid Persian, 2nd
Danny, German Catholic, 3rd


John and Grant

Flames of War - Mid War (18 competitors)
Rob, British Rifle Company, 1st

Moderns 1/300 (6 competitors) The Moderns NICon competition was also the National Championship (as Moderns was not played at the NatCon this year). Gerard won 1st Place, with four wins in four games.
Gerard, United Kingdom Armoured Division (1999), 1st

There was a Warhammer 40K competition with 24 players, none from the North Shore though.

NICon 2006 will be hosted by the Taranaki club.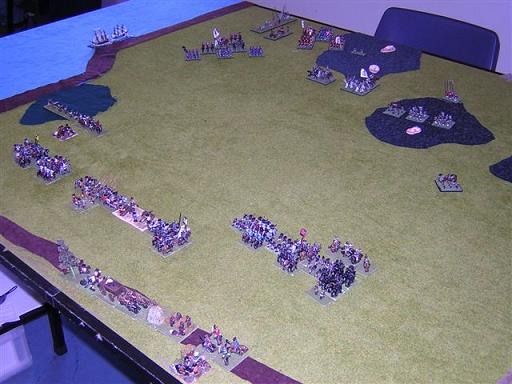 DBR. Above: The Danes (top of the picture) vs the Germans.
Below: The Danish Army.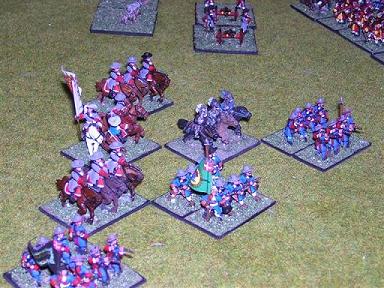 Club meeting 29 May 2005
Today we had the first of our meetings under the new schedule on the fifth Sunday of the month. It was a quiet turnout, which meant there were more donuts to go around at morning teatime. These are the games we played:

Warhammer Fantasy Battle - There was a three-sided battle between Aaron - Orc and Goblins lead by Grimgor Ironhide, Rob - Orcs from Storms of Chaos, and Dan - Vampire Counts. A close run thing in the end with about 200 points of Aaron's Goblins all that was left at the end. The foot of Gork was mighty indeed.
DBM 25mm - There was a club competition game using the DBM 3.1 rules. Andrew's Medieval French beat Brett's Medieval Germans 9-1. And to prove that history isn't always written by the victor, this summary of the game: "andrew the jammy bastard 9, brett the brave, deserving but ultimately desperately unlucky 1"
DBR 15mm - Philip (Muslim Indians) beat Grant (Safavid Persians). The shooting from both armies was quite ineffective, but in close combat the Indians couldn't fail (couldn't fail to roll sixes, that is.)
New Yahoo! Group 23 May 2005
A new Yahoo! Group has been set up to improve communication for club members, associates, and visitors. We will use it for club announcements and news, discussions, and it will be another handy means of arranging games with other club members.
To join, go to this website http://games.groups.yahoo.com/group/NSWC-NZ/join
Club meeting 22 May 2005
Surprisingly for the sunny North Shore it was a rainy day, but we had a good turnout at the hall anyway. We set up a bring-and-buy table, and lots of armies and other wargaming gear were bought, sold or traded, and there were some Urban Warfare vouchers available as well.

Warhammer Fantasy Battle - There was a three-way battle between Dan (Vampire Counts), Matt (Ogre Kingdoms) and Aaron (Empire). Matt took the honours.
DBM 25mm - Brett and Lee had a competition game using the new DBM 3.1 rules. Lee's Alexandrian Macedonians got a 10-0 win over Brett's Medieval Germans.
DBR 15mm - Grant's freedom loving Cossacks defeated Dave's imperialist Traditional Russians.
DBR 15mm - Michael's Early Vasa Swedish won 7-3 over Philip's Muslim Indians.
Flames of War - Rob (British Rifle Coy) played a late war game against Garth (German paras). 6-1 win to the Brits.
Moderns - Al (British) and Bruce (US Marines) had a game using the WRG moderns rules. There is a splendid battle report on the Moderns page.
Moderns - Rob (French) and Kendall (German) used the Shock and Awe moderns rules. A resounding victory for the French who outnumbered the Germans.

There will be an extra club meeting next Sunday the 29th, as it is the fifth Sunday of the month. Just a reminder that the club now meets on the second, fourth and fifth Sunday every month, so we will sometimes meet two weeks in a row like this.
Club meeting 8 May 2005
Warhammer Fantasy Battle - Matt's Ogres beat Aaron's Empire army. Losses were heavy, but when the few remaining Ogres finally closed to combat they gained the victory.
Flames of War - Rob (Mid-war British) won 5-2 over Kendall (U.S. Rangers).
Rob then won a second game over Garth's Germans.
Moderns - We played the first couple of club competition games today. Gerard (British 1999) won 10-0 over Bruce (French 1999), and Philip (Russian 1995) and Kieran (Russian 1985) had a 5-5 draw.
Shattered Lances - Brendan and Jono had a test game using the latest draft of the Shattered Lances rules, including the dust cloud rules. A Fatimid force failed to stop the charge of the crusading chevaliers, and they were then abandoned by their Bedouin allies.
DBM 25mm - Brett and Andrew tried the new 3.1 DBM rules in a couple of games. In both the Han Chinese defeated the Medieval Germans.

Finally, a reminder that at the next club meeting (22nd of May) we will be having a bring-and-buy. Here's your chance to sell off those bags of unpainted figures, and buy someone else's bags of unpainted figures.
Urban Warfare 1 May
1 May 2005. The Urban Warfare shop in Newmarket is now supplying Irregular, Museum, Grumpy, Eureka and AB miniatures and also the Confrontation fantasy range.
International Wargaming Federation - World Individual Championships 23-25 April 2005
The world championships were held in Melbourne this year. Several of our club members attended the competitions. Although we didn't come away with any medals, we still got some good results. In the DBM competition Paul was 12th in a field of 138 players, and in DBR Danny came in 5th place.
In the DBR tournament there were 22 competitors, five of whom were from the North Shore or AWC clubs. Our results were:
Danny (German Catholic Eastern Frontier 1633) - 5th, 121 points
Philip (Muslim Indian 1647) - 8th, 111 points
Grant (Safavid Persian 1600) - 10th, 109 points
John (Later Danish 1676) - 13th, 92 points
Stu (Regency and Fronde French Royal Army, 1659) - 22nd, 43 points
We also played some 'Test Matches' against the Australians and Brits, but they came away with the bragging rights from those games.
Jim Hughes England 4 vs Danny Wrigley New Zealand 6 = Draw
Dave Clarke England 10 vs Danny Wrigley New Zealand 0 = England Win
Peter Sanger England 3 vs Stuart Todd New Zealand 7 = New Zealand Win
Total England 17 Total New Zealand 13
Lyle Daymond Australia 9 vs John Way New Zealand 1 = Australian Win
Paul Garnham Australia 10 vs Philip Abela New Zealand 0 = Australian Win
Ian Poade Australia 7 vs John Way New Zealand 3 = Australian Win
Lyle Daymond Australia 1 vs Philip Abela New Zealand 9 = New Zealand Win
Justin Swain Australia 9 vs Grant Brown New Zealand 1 = Australian Win
Total Australia 36 Total New Zealand 14
In the DBM competition there were 138 competitors. Our top placed club member was Paul who achieved 12th place using a Lysimachid army (134 points). Brett's Alexandrian Macedonians got him to 80th place. Al the Spartan got an award for the most drawn games (unfairly called 'King of the Corner', given his non corner-sitting tactics.)
Check out the IWF World Championships website as well. Next year the Worlds will be in Athens. Will Al be there to cry out "Sparta!", and still live to tell the tale?
The IWF Executive Committee agreed to only hold the World Championships every second year from 2006 (after Athens) however there will also be new IWF Continental Championships on alternate years (European, North American, African and Pacific Championships) from 2007.
Club meeting 24 April 2005
Warhammer Fantasy Battle - Rob (Dwarves) played Aaron (Dogs of War)
Flames of War - Kendall (US Rangers) bt Lee (Soviet Tankovaya) 6-1
Kit (German Grenadier) bt Lee (Soviet Tankovaya) 4-3
"Russian tank losses were incredible!"
Club meeting 10 April 2005
DBM 15mm - Brett's Alexandrian Imperial army beat Jono's Lydians in a club competition game. Although a 10-0 victory to the Macedonians, it was a close fought game.
DBR 15mm - Craig fielded his Italian Wars French army for the first time, taking on Brendan's Early Danes featuring the famous Sven the Slasher. Sven didn't live up to his reputation today, and the win went to the French.
DBR 15mm - Yet more Danes! John's Later Danes and Danny's Imperialists fought a hard battle ending in a mutual break. A merit award goes to the Danish gunners who held out against Imperialist cavalry charges. Sven the Sponger perhaps?
Flames of War - Kit (a national champion) and Kendall (a national bronze medal holder) had what one player called a "stupid game." Kendall's US Rangers were beaten by Kit's "cheating Tiger-using German grenadiers."
Warhammer Fantasy Battle - Robbie's Goblins were victorious over Aaron's Dogs of War. In a post-match interview Rob said "Waaargh!"
NatCon 25-27 March 2005
A good number of our club members were in Christchurch this Easter for the NatCon convention, and achieved some good results.
In DBM 25mm, Andrew got second place with his Han Chinese army, and in 15mm Paul (Lysimachid) was 3rd and Brett (Early Samurai) 4th.
In the Flames of War competition Robbie's British Armour came in 12th place. Kendall won 4th place in Mid-War with his US Airborne, owing to skilful dice rolling, an unstoppable air force, and some clever tactics such as armour ambushing in a wood. In the Early War competition Kit took out first place: "I was using the Sikh Rifle Company of the 3rd Battalion, 1st Punjab Regiment with support from 7th Royal Tank Regiment (Matilda II) and 3rd Royal Horse Artillery Regiment (Two-pounder portees). All from 4th Indian Infantry Division. This army won 1st Place in the early war competition. I put it all down to my magnificent 'story'."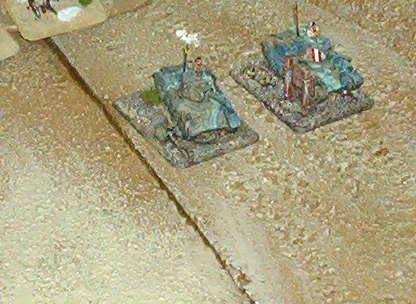 Kit's Matildas - only one was destroyed in the entire tournament.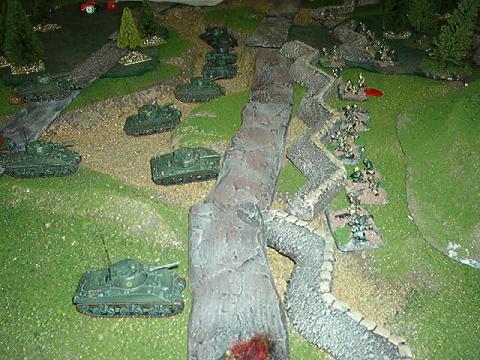 Rob's Shermans stuck between two minefields trying to attack German paras
Next year's Natcon will be in Hamilton. A bid from Melbourne to host the convention got a surprising amount of support, showing all doubters that Hamilton is a destination that can rival any international competition.

Meanwhile, back at the club, it was a very quiet meeting - only one game played, a 9-1 win to Lee's Royalists over Philip's Indians.
Club meeting 13 March 2005
DBM 15mm - Brett's Samurai beat Kendall's Hundred Years War English.
DBM 15mm - Al the Spartan had an ancient competition game with Jono the Lydian - a 6-4 draw favouring the Spartans.
DBR 15mm - Philip (Muslim Indian with Maratha allies) had a 9-1 win over Andrew (Neapolitan Spanish with ten war carts)
Flames of War - Rob used his Natcon army (armoured Ontario Regt) and Garth was using Fallschirmjager in a couple of scenarios - Breakthrough and the Cauldron. Rob's won the first game 6-1 and the second 5-2.

Needless to say, Dr Lucky came to an unhappy end. Twice.
Club meeting 27 February 2005
Annual General Meeting.
The current executive was voted in again (President Rob, Secretary Danny, and Treasurer Gerard) Club fees to be $30 per year, or $2 per meeting for casual visitors.
The 2004 Ancient Competition trophy was presented to Brett. This year we plan to have a broader range of club competitions including not just Ancients but also Napoleonics, Flames of War (Early, Mid, and Late) and Moderns. The annual Push of Pike renaissance tournament will be in the first week of September.

Other games at the club today:
WHFB - Rob (Goblins) beat Arron (Empire).
DBM 25mm - Andrew's glorious and ever-victorious (with minor exceptions) Han Chinese army won an 8-2 victory over Lee's new lite low fat plastic Alexandrian Imperial army.
DBMM 15mm - Brett's Alexandrians beat Gerard's Classical Indians in a 500 point test of the latest version of the DBMM rules.
Flames of War - Kendall and Kit played a breakthrough mission.
Kit (Late war cheaty German panzer company) 4 vs Kendall (Late war heroic, always stacked against it cos the rules are rigged British infantry company) 3.
DBM 15mm - In the first competition game of the new year, Philip's Mithridatics employed a double outflanking move to beat Jono's Graeco-Bactrians 9-1.
DBR 15mm - Danny (Imperialists) beat Philip (Muslim Indians)
| | |
| --- | --- |
| | |
| Brett's Alexandrian phalanx | Danny's Imperialist cuirassiers |
Battlecry 19-20 February

French Ordinance Gendarmes
Kit and Rob played in the Flames of War competition. Kit took his undefeated early war Italians to 3rd place. We had two teams in the DBM25mm doubles competition - Brett and Kelly with French Ordinance, and Philip and Andrew with Han Chinese. Our results were nothing to write home about, and certainly not to be published on this website...
There were several trade stands at the convention, including Urban Warfare displaying some of their Essex Miniatures stock.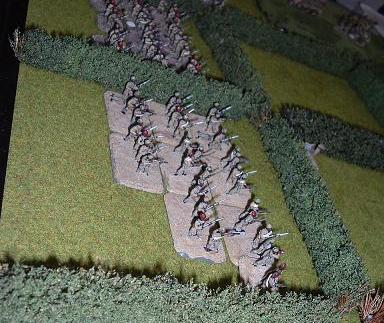 Flames of War. Kit's Italian Infantry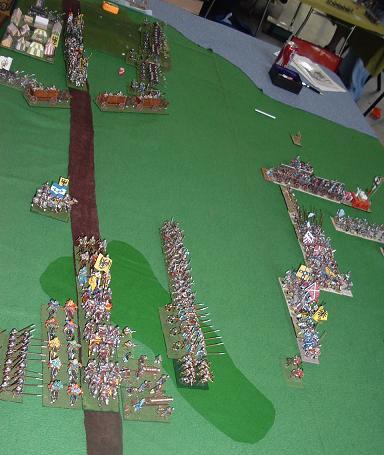 DBM 25mm. Medieval Germans (on the left) vs French Ordinance
Club meeting 13 February 2005
WHFB - There was a multiplayer game, with a victory for the bad guys - Dan's Vampire Counts and Rob's Goblins beating Aaron's High Elves and Matt's Ogre Kings.
DBM 15mm - In the final of the club ancient competition, Brett's Early Samurai with Emishi allies beat Paul's Lysimachids.
DBM 15mm - Al the Spartan played two games against Andrew the Hittite, winning both.
DBR 15mm - Philip's Muslim Indians defeated Grant's Cossacks.
DBR 15mm - Danny using his Eastern Frontier Imperialists beat John who was using Later Danes.
DBR 15mm - In a second game, Danny beat Jono's Parliamentarian army.
Flames of War - Kit, using a German army, beat Kendall who was using British. Kendall's assessment: "Stupid game."
Kill Dr Lucky - Our traditional fun-game-at-the-end-of-the-meeting. Once again Dr Lucky runs out of his eponymous quality.
| | |
| --- | --- |
| | |
| Jono's Parliamentarian army | Parliamentarian and Imperialist battle lines clash |
ValleyCon 5-6 February 2005
Danny and Philip played in the DBR competition at ValleyCon, hosted by the Hutt Valley club. Our results were good - Philip 1st, Danny 2nd, and Danny got the Best Sport award too. The Maratha Indian army painted by Roland Davis (and used by Philip in the competition) got the best-painted army award.
Also at the convention was a DBM 25mm competition played in only three rounds, Warhammer 40K, and Flames of War. FoW had 2000 point mid-war armies, played on 8 x 6 tables. Thanks to everyone at the Hutt club for their hospitality in an easy-going convention, and for organising the DBR tournament which was such good practice for us preparing for the international competition later in the year.
Club meeting 30 January 2005
Well, we are certainly back to busy meetings again! It was good to see a couple of new people come along, and get out the old "Club Romans" as well.
WHFB - Aaron's High Elves fought to a draw with Matt's Ogres and their little green cousins.
DBR 15mm - Lots more IWF training games happening today. Danny's Imperials won two victories, over Grant's Cossacks and then John's Italian War French. Philip's Marathas also won a couple of games, against John's unfortunate French army in the morning, and Stu's Louis XIV French in the afternoon.
Flames of War - Another couple of victories for Rob's Germans. In the morning he played against Kendall's British, and in the afternoon against Gerard's "Old Ironsides" Americans.
Damn Battleships Again - Stu's American fleet (with Kit's assistance.) took on Andrew's British (with Kendall and Philip helping out, not very effectively as it turned out.) The British were hampered by an unhappy combination of: Obsolete ships, lack of co-operation, psychologically impaired leadership, poor gunnery, and an island which appeared dead ahead of my battleship line. A grand victory for the Americans (although they did manage to run a ship aground as well.)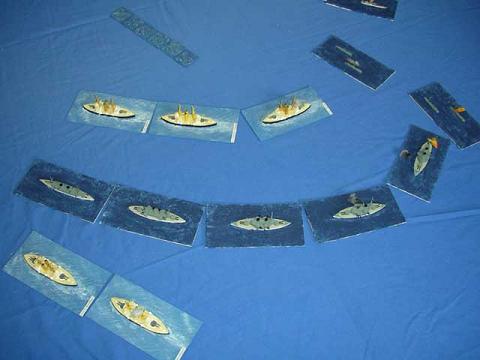 Damn Battleships Again! The British and American fleets manoeuvre around a minefield.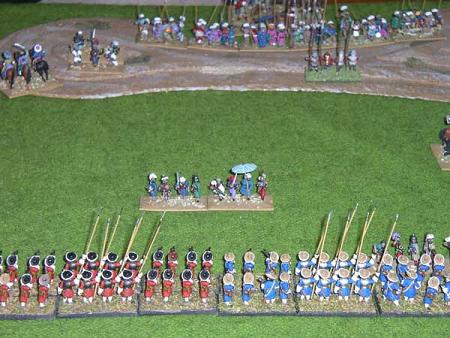 A forlorn hope of Indian musketeers advances on the French infantry line.
Club meeting 16 January 2005
Rather more activity at the club this week, the meeting marred only by the shocking discovery that our local bakery was still closed for the summer holidays. Mmm, donuts.
details to report right now.
DBM 15mm - Paul won the semifinal game of the club ancients competition, using a Lysimachid army, beating Andrew's Palmyran army. Paul goes on to play against Brett in the finals.
DBR 15mm - There were a couple of DBR games at the club, as we get ourselves up to match fitness for the forthcoming IWF competition! In one game Danny's Imperialists added Philip's Tripolitanians to the Empire. In the other game, Grant's Cossacks fought against John's Danes. A naval clash in the river provided great amusement for us all (the Danes sank).
Flames of War - By far the most impressive game we have seen at the club for a while was a large WWII scenario, the relief of Vilnius. The scenario was actually taken from a Rapid Fire book, but played with FoW rules on a 16 x 6 foot table. At one end were some Germans and Rumanians in a town surrounded by Russian partisans. A relief force was attempting to rescue them, battling its way past Russian defences, ambushes and snipers, muddy fields, and a passing armoured train. Brett and Edwin were the Russian players, Kit and Kendall the Germans and Rumanians.
BattleCry
The BattleCry convention is hosted by AMERICA, the Auckland University Roleplaying Club.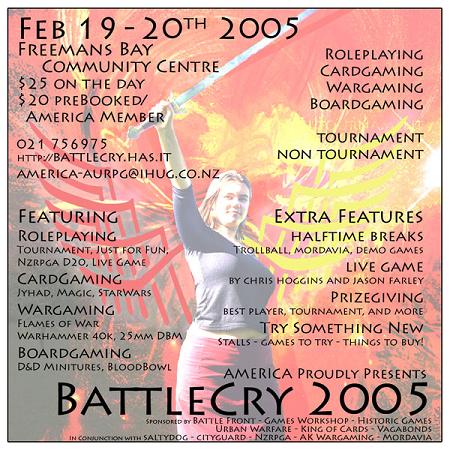 Club meeting 2 January 2005
As is usual this time of year, another quiet meeting. A bit of figure painting, a couple of games of Kill Doctor Lucky, and just one table top game.
DBMM 25mm - A doubles game between on one side Andrew and Steve (visiting us from sunny Australia) using Han Chinese, and Philip and Brett using Kushite Egyptians. A close game, with the win to the Egyptians.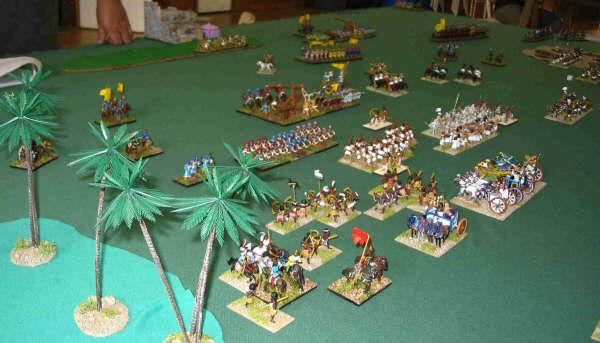 ---
2020 | 2019 | 2018 | 2017 | 2016 | 2015 | 2014 | 2013 | 2012 | 2011 | 2010 | 2009 | 2008 | 2007 | 2006 | 2005 | 2004
---
This page last updated 24 June 2021